Your Family Deserves A Safer Home. We Help You Create It!
Only a few units left at this price...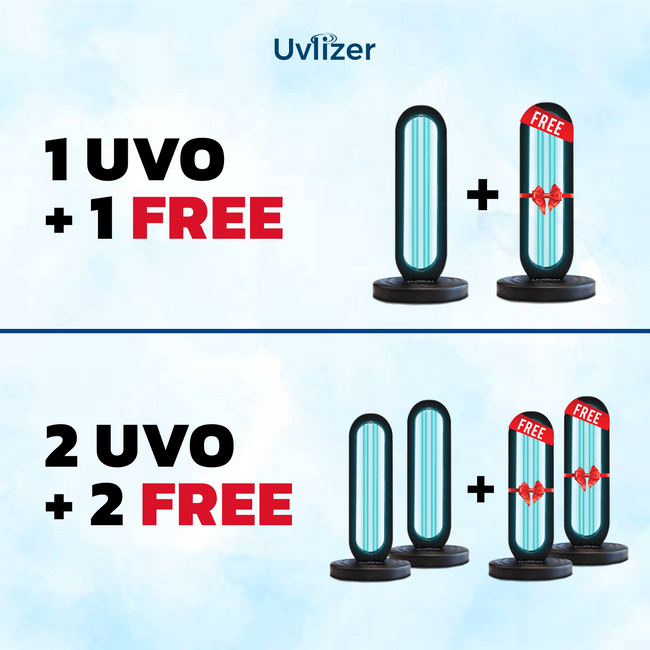 You turn the Uvlizer on, then leave the room. It's as simple as that!



How did Uvlizer come to life?

Suitable for 100-250 sq ft - The 38W bulb in Uvlizer™ can easily disinfect a whole 250 sq ft room like a bedroom, living room, or kitchen. That means you can protect yourself and your family without worrying about other side effects. Total peace of mind!


Chemical-Free - With Uvlizer™, you can minimize your toxic chemical exposure due to household cleaners and disinfectants. Don't compromise your health while staying safe. It's great for the surfaces, the environment, your time, and your wallet.


The freshest smell you've ever experienced - After one use, your home will have an oddly fresh scent that smells like nothing you've smelled before. Many homes with pets or kids can benefit from Uvlizer™!


Can be used on any household item - Use it on silverware, dishes, telephone handsets, laptops, or other home appliances. You can even create a sterilization room where you put everything you want to disinfect once you get home.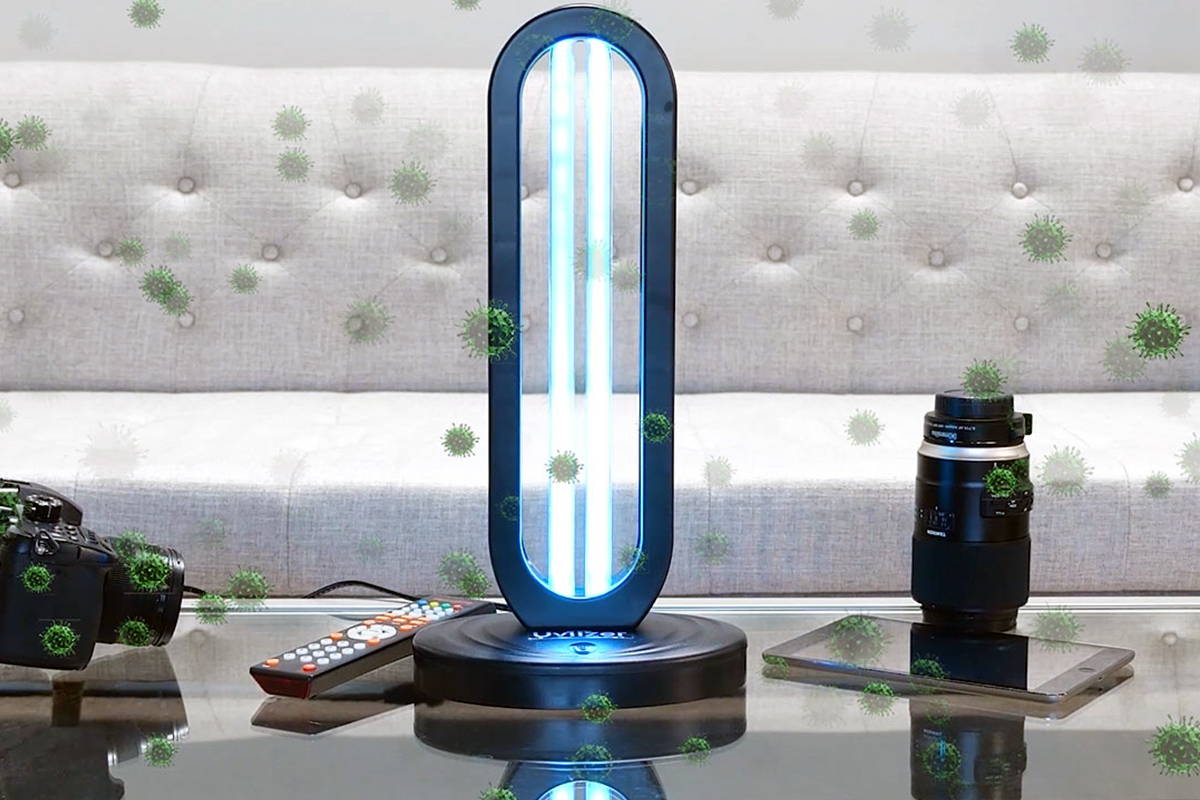 Lightweight and portable - Uvlizer™ is small and light, allowing it to fit in your luggage easily. With public life and traveling resuming soon, Uvlizer™ will keep you safe wherever you go, whether BNBs or hotel rooms.
Safety timer - The safety timer built-in Uvlizer™ will prevent any accidental exposure to its UV rays and will give you plenty of time to leave the room. Plus, the internal timer will allow you to set the cleaning cycle depending on your needs. You can even set the timer at night, go to sleep, then wake up to a clean and safer environment.



Not Only for Your Home - Uvlizer™ is also suitable for disinfecting other places you spend time in. Many of our customers are using it to fight infections in their office, hair salon, spa, dental office, waiting room…
A One Time Investment In Your Health That Will Pay For Itself
Think to yourself, how many times would you need to buy all-purpose cleaners? Or how many times would you need to buy bleach and disinfectants? All of these are called consumables.
In contrast, Uvlizer™ is a one-time investment that will enhance your health and your loved ones' health while saving you money along the way. You can forget about your worries from using wipes or chemicals or having a house smelling like bleach most of the time.
Try It Before You Decide With Our 90-Days-No-Questions-Asked Money Back Guarantee.

You make an order, receive it, then try it for a while. Suppose for any given reason you don't like it. Or maybe your spouse doesn't like it. Or you might feel like it's not adding value to your life. Even if you just need your money back because of urgency, then reach out to our 24/7 customer support team within 90 days of making your purchase, and we will provide a full refund.
FREE 24/7 SHIPPING FROM CALIFORNIA TO YOUR DOORSTEP

CHERRY PICKED PRODUCTS
Recommended for you

UVO254™ - Powered Home Disinfection Tower
$79.95
$99.99
You turn the UVO Lamp on, then leave the room. It's as simple as that! Suitable for 100-250 sq ft - The 38W bulb in UVO Lamp can easily disinfect a whole 250 sq ft room like a bedroom, living room, or kitchen. That means you can protect yourself and your family without worrying about other side effects. Total peace of mind! Chemical-Free - With UVO Lamp, you can minimize your toxic chemical exposure due to household cleaners and disinfectants. Don't compromise your health while staying safe. It's great for the surfaces, the environment, your time, and your wallet. The freshest smell you've ever experienced - After one use, your home will have an oddly fresh scent that smells like nothing you've smelled before. Many homes with pets or kids can benefit from UVO Lamp! Can be used on any household item - Use it on silverware, dishes, telephone handsets, laptops, or other home appliances. You can even create a sterilization room where you put everything you want to disinfect once you get home. Lightweight and portable - UVO Lamp is small and light, allowing it to fit in your luggage easily. With public life and traveling resuming soon, Uvlizer™ will keep you safe wherever you go, whether BNBs or hotel rooms. Safety timer - The safety timer built-in UVO Lamp will prevent any accidental exposure to its UV rays and will give you plenty of time to leave the room. Plus, the internal timer will allow you to set the cleaning cycle depending on your needs. You can even set the timer at night, go to sleep, then wake up to a clean and safer environment. Not Only for Your Home - UVO Lamp is also suitable for disinfecting other places you spend time in. Many of our customers are using it to fight infections in their office, hair salon, spa, dental office, waiting room… A One Time Investment In Your Health That Will Pay For Itself Think to yourself, how many times would you need to buy all-purpose cleaners? Or how many times would you need to buy bleach and disinfectants? All of these are called consumables. In contrast, UVO Lamp is a one-time investment that will enhance your health and your loved ones' health while saving you money along the way. You can forget about your worries from using wipes or chemicals or having a house smelling like bleach most of the time. Try It Before You Decide With Our 90-Days-No-Questions-Asked Money Back Guarantee. You make an order, receive it, then try it for a while. Suppose for any given reason you don't like it. Or maybe your spouse doesn't like it. Or you might feel like it's not adding value to your life. Even if you just need your money back because of urgency, then reach out to our 24/7 customer support team within 90 days of making your purchase, and we will provide a full refund. FREE 24/7 SHIPPING FROM CALIFORNIA TO YOUR DOORSTEP
2x Bundle - UVO254™ Powered Home Disinfection Tower
$139.90
$199.98
  You turn the Uvlizer on, then leave the room. It's as simple as that! How did Uvlizer come to life?   Suitable for 100-250 sq ft - The 38W bulb in Uvlizer™ can easily disinfect a whole 250 sq ft room like a bedroom, living room, or kitchen. That means you can protect yourself and your family without worrying about other side effects. Total peace of mind! Chemical-Free - With Uvlizer™, you can minimize your toxic chemical exposure due to household cleaners and disinfectants. Don't compromise your health while staying safe. It's great for the surfaces, the environment, your time, and your wallet. The freshest smell you've ever experienced - After one use, your home will have an oddly fresh scent that smells like nothing you've smelled before. Many homes with pets or kids can benefit from Uvlizer™! Can be used on any household item - Use it on silverware, dishes, telephone handsets, laptops, or other home appliances. You can even create a sterilization room where you put everything you want to disinfect once you get home. Lightweight and portable - Uvlizer™ is small and light, allowing it to fit in your luggage easily. With public life and traveling resuming soon, Uvlizer™ will keep you safe wherever you go, whether BNBs or hotel rooms. Safety timer - The safety timer built-in Uvlizer™ will prevent any accidental exposure to its UV rays and will give you plenty of time to leave the room. Plus, the internal timer will allow you to set the cleaning cycle depending on your needs. You can even set the timer at night, go to sleep, then wake up to a clean and safer environment. Not Only for Your Home - Uvlizer™ is also suitable for disinfecting other places you spend time in. Many of our customers are using it to fight infections in their office, hair salon, spa, dental office, waiting room… A One Time Investment In Your Health That Will Pay For Itself Think to yourself, how many times would you need to buy all-purpose cleaners? Or how many times would you need to buy bleach and disinfectants? All of these are called consumables. In contrast, Uvlizer™ is a one-time investment that will enhance your health and your loved ones' health while saving you money along the way. You can forget about your worries from using wipes or chemicals or having a house smelling like bleach most of the time. Try It Before You Decide With Our 90-Days-No-Questions-Asked Money Back Guarantee. You make an order, receive it, then try it for a while. Suppose for any given reason you don't like it. Or maybe your spouse doesn't like it. Or you might feel like it's not adding value to your life. Even if you just need your money back because of urgency, then reach out to our 24/7 customer support team within 90 days of making your purchase, and we will provide a full refund. FREE 24/7 SHIPPING FROM CALIFORNIA TO YOUR DOORSTEP

3x Bundle - UVO254™ Powered Home Disinfection Tower
$194.70
$299.97
  You turn the Uvlizer on, then leave the room. It's as simple as that! Suitable for 100-250 sq ft - The 38W bulb in Uvlizer™ can easily disinfect a whole 250 sq ft room like a bedroom, living room, or kitchen. That means you can protect yourself and your family without worrying about other side effects. Total peace of mind! Chemical-Free - With Uvlizer™, you can minimize your toxic chemical exposure due to household cleaners and disinfectants. Don't compromise your health while staying safe. It's great for the surfaces, the environment, your time, and your wallet. The freshest smell you've ever experienced - After one use, your home will have an oddly fresh scent that smells like nothing you've smelled before. Many homes with pets or kids can benefit from Uvlizer™! Can be used on any household item - Use it on silverware, dishes, telephone handsets, laptops, or other home appliances. You can even create a sterilization room where you put everything you want to disinfect once you get home. Lightweight and portable - Uvlizer™ is small and light, allowing it to fit in your luggage easily. With public life and traveling resuming soon, Uvlizer™ will keep you safe wherever you go, whether BNBs or hotel rooms. Safety timer - The safety timer built-in Uvlizer™ will prevent any accidental exposure to its UV rays and will give you plenty of time to leave the room. Plus, the internal timer will allow you to set the cleaning cycle depending on your needs. You can even set the timer at night, go to sleep, then wake up to a clean and safer environment. Not Only for Your Home - Uvlizer™ is also suitable for disinfecting other places you spend time in. Many of our customers are using it to fight infections in their office, hair salon, spa, dental office, waiting room… A One Time Investment In Your Health That Will Pay For Itself Think to yourself, how many times would you need to buy all-purpose cleaners? Or how many times would you need to buy bleach and disinfectants? All of these are called consumables. In contrast, Uvlizer™ is a one-time investment that will enhance your health and your loved ones' health while saving you money along the way. You can forget about your worries from using wipes or chemicals or having a house smelling like bleach most of the time. Try It Before You Decide With Our 90-Days-No-Questions-Asked Money Back Guarantee. You make an order, receive it, then try it for a while. Suppose for any given reason you don't like it. Or maybe your spouse doesn't like it. Or you might feel like it's not adding value to your life. Even if you just need your money back because of urgency, then reach out to our 24/7 customer support team within 90 days of making your purchase, and we will provide a full refund. FREE 24/7 SHIPPING FROM CALIFORNIA TO YOUR DOORSTEP

UVBot™ - The Sanitizing Robot
$159.95
"Cleaning without sanitizing can do more harm than good because you're just spreading the germs to new areas," according to the study by the American Society for Microbiology that has been reported in Time magazine. Unfortunately, this golden nugget of information tends to be forgotten by most people, when it's potentially the reason why you've been getting as sick and is surely the reason why you're constantly exposed to all sorts of dangerous micro-organisms that are invisible to the eye, but full well apparent to your immunity system. Our UVBOT™ comes as an alerting reminder of how urgent it is to disinfect those surfaces that are subject to continual threats like your furniture at home, and also your personal belongings and gadgets such as your phone, computer and so much more… And given all the risks that jeopardize your health nowadays, UVBOT™ has been specifically designed to help you in your everyday battle against viruses, bacteria, germs, and fungus so that you finally get rid of your worries from the micro-organisms hiding on so many surfaces around you, without having to be constantly wiping and spraying harmful chemicals everywhere! With UVBOT™ you'll not only feel safe but more importantly, sanitize while on the move! Meet Your little Guardian Angel that fits right in your bag! UVBot is a UV-C sanitizing robot that fits right in your bag for an on-the-go solution to your microbes' fears. You can use it whenever and wherever you need it to sanitize all kinds of risky surfaces. UVBot answers: what kind of surfaces?  First, What does this have to do with UVBot, you may ask? Well here's the thing. If you have a pet, no matter how much you love them, you know how hard it is to keep everything sanitized when they're constantly running everywhere around the house. And if you're into traveling, you know how challenging it is to ensure the disinfection of both your personal belongings like your phone, wallet, and suitcase and of your hotel room, starting from the bathroom to the carpets and the bedspreads.  So no matter how different pet owners and travelers seem to be, they have this in common: they both deal with imminent dangers that are due to the greater number of invisible micro-organisms that they're exposed to. UVBot thus comes to your rescue! Because pets shouldn't feel like a burden and traveling should always be the fun and pleasant experience that it's bound to be.  Want to know how UVBot manages to do so?Let us walk you through its features.  Advanced quadruple-action UV-C technology with 4 UV-C light sources. UVC light destroys all kinds of microbes by deactivating their DNA and RNA.UVBot uses a 254 nm-wavelength that's been proven to eliminate bacteria, viruses, and harmful contaminants. This wavelength is especially effective in sterilization and purification applications used to disinfect the air, water, and various surfaces. It's independent thanks to its AI-powered 2D Mapping technology. It's equipped with a smart pathfinder that prevents it from falling off and 18 different AI sensors to map its course and automatically steer through different directions. With this technology, UVbot can easily detect obstacles and surface edges and automatically steer back into position.  It's portable.UVBot is compact and thanks to its pocket size, it can easily fit in your travel bag. You can take it wherever you go and use it whenever it's convenient. Manual and Automatic modes.You can choose between two modes according to your need. If you want to disinfect small areas like your phone, keyboard, or bathroom fixtures, the handheld mode will work best for you for a more targeted use, else just set it and forget it! Thanks to its smart sensors-system and 2D mapping technology, it will automatically scan the surface, detect any obstacles, and identify the edges of the furniture to then autonomously make its way around the surface, eliminating threatening microorganisms. UVBot will even disinfect under sheets, blankets, or pillows! Using its smart automatic sensors, it won't omit any tiny corner!  Works as a Powerbank for your phone or any other small devices.UVBot can also serve as a back-up power supply for your phone or any other devices. If you accidentally run out of power while traveling or when you're just out shopping, UVBot will come in handy with its 4800 mAh battery capacity. Battery capacity: 4800mAh Charging time: 0.5h Working time: 120min Size: 5*16*16cm Material: ABS Color: white